Reframing the Year of Africa: Independence as a Process
The year 1960 is known as the "Year of Africa," when 17 countries across the continent celebrated the joy, excitement, and possibilities of independence. But liberation in Africa was more than this one moment in the global process of decolonization.
Each individual state's independence is an important milestone, but the events of 1960 were part of a larger continuum of liberation. So many African leaders of countries not-yet-independent, like Julius Nyerere of Tanzania and Kenneth Kaunda of Zambia, were part of these ongoing, multilateral stories of Pan-Africanism, non-alignment, liberation struggles, and racial solidarity.
If we look at large-scale, transnational infrastructure projects, we see these "moments" of independence in their larger context. Projects born from colonial plans were realized in new ways by post-independence leaders through foreign investment and Cold War entanglements.
The Origins of a Term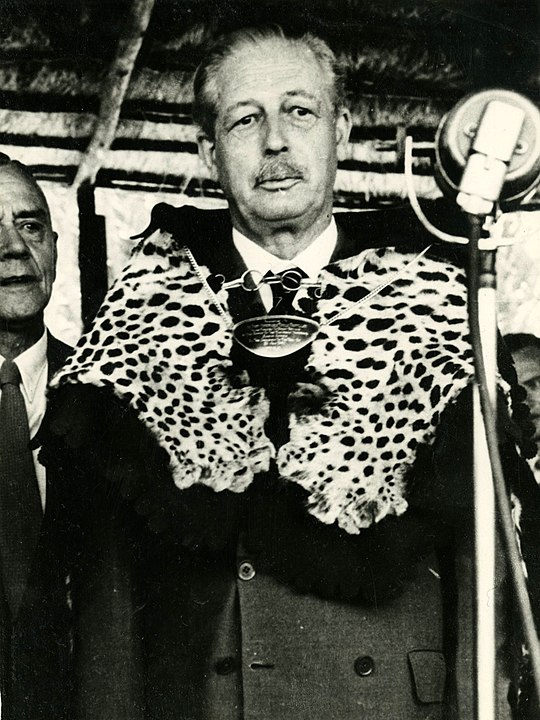 The phrase "Year of Africa" was used first by O.H. Morris in January 1960 and put into practice by Harold Macmillan, then Prime Minister of the United Kingdom, during his "Wind of Change" speech on February 3, 1960, to the all-white South African Parliament. After touring British colonies in Africa, Macmillan had become increasingly convinced that "national consciousness" among Africans "was a political fact."
If Macmillan and other colonial leaders seem to have predicted an inevitable decolonization, that was not their intent. The British leader had only begun to see African colonial holdings as liabilities by 1959.
Macmillan's main concern was to lessen domestic and international criticisms of British colonial administration, especially after the brutality of the Mau Mau Uprising in Kenya (1952-1960) and the Nyasaland Emergency (1959) in what is now Malawi. He also worried that the Soviet Union and China would use independence struggles to gain footholds on the continent.
Independence and Pan-Africanism
Independence meant so much more than hoisting a flag. It was the culmination of immense struggle that emerged in the midst of a growing sense African nationalism, global racial solidarity, and multilateral partnerships.
As we look back on the Year of Africa, we should focus on the connections being forged, questioned, reimagined, and molded among African nations and their international partners, in part through conferences.
Conferences among African leaders convened in Tunis, Accra, Conakry, Addis Ababa, and Léopoldville in 1960 alone. They built on earlier multilateral, Third World meetings such as the Bandung Conference (April 18–24, 1955). Also known as the Asian-African Conference, it included 29 countries and represented 1.5 billion people, or 54% of the world population at the time. Its goals were to oppose colonialism and neocolonialism in all its forms.
Similarly, the All-African Peoples' Conference (AAPC), created in 1958, hosted meetings in December 1958, January 1960, and March 1961. Its objectives were to achieve independence for all colonies, to strengthen already independent states, and to resist neocolonialism.
Another multilateral partnership among African states was the Organisation of African Unity (OAU), which was established on May 25, 1963, in Addis Ababa. This intergovernmental organization originally consisted of 32 signed members and had similar goals to those of the AAPC.