Teachers' roles of evaluating validity, reliability and bias of assessment practices in classrooms. In this task, you will choose an assessment practice to evaluate for these four aspects. 
Teachers' roles of evaluating validity
Teachers are responsible for understanding and evaluating the validity, reliability, accessibility, and bias of the assessment practices they use in their classrooms. In this task, you will choose an assessment practice to evaluate for these four aspects. You will then explain how you will conduct that evaluation and provide examples of assessment items that can affect validity, accessibility, and bias.
A.  Describe an assessment practice (portfolio) and the context (subject: Reading Comprehension, grade level: 1st grade setting: Groups) for when this practice could be used in the classroom. (YOU will find this information in the uploaded lesson plan) Students will perform a portfolio.
1.  Explain how to evaluate this assessment practice for validity.
a. Discuss an example of how a specific assessment item could decrease validity when using this assessment practice.
2.  Explain how to evaluate this assessment practice for reliability.
3.  Explain how to evaluate this assessment practice for accessibility.
a. Discuss an example of how a specific assessment item could decrease accessibility when using this assessment practice.
4.  Explain how to evaluate this assessment practice for bias.
a. Discuss an example of how a specific assessment item could increase bias when using this assessment practice.
B.  Acknowledge sources, using in-text citations and references, for content that is quoted, paraphrased, or summarized.
C.  Demonstrate professional communication in the content and presentation of your submission.
Teachers' roles of evaluating validity, reliability and bias of assessment practices in classrooms. 
What are student learning processes?
Overview: student assessment is the powerhouse of teaching and learning processes. You can never know whether teaching is making any difference without carrying student assessment tasks. Teaching requires assessment methods to determine whether students are developing knowledge and skills. It acts like a magnifying glass. When used, it can determine whether the teaching process is well functioning or any improvements are required.
The measurement of student learning through assessment is important because: it provides useful feedback to both instructors and all the students. For Wiggens and McTighe, assessment enables Classroom teachers to find the metrics of measurement for student understanding of and proficiency in learning.
For provision of an effective assessment, the teaching has many goals:
Defining what is a student learning assessment and its importance.
Defining several approaches to help guide and refine student assessment.
Addressing various methods of assessments
Offering several resources for research
Forms and purpose of student Assessment: Teaching and learning involves two general forms.
Summative assessment
Formative assessment
Summative assessment: this is the one that is implemented at the end of the course. For example via final exams. It is intended to produce an evaluation that sums up the students learning. It is concerned with learning outcomes. Its limitations include: it doesn't provide students with opportunities to reflect on their progress.
Additionally, it alters their learning. It also doesn't allow the teachers to modify their teaching strategies before students learn in a course ( Maki, 2002).
Formative assessment: this involves evaluation of learning at certain points before any summative form. It is important in helping students during the learning process by helping them reflect on their challenges and growth so they improve. Instructors do help the students by analyzing and discussing the results with them. The student gets to know how they will improve over the course of their studies ( Maki, 2002, p. 11).
Pat Hutchings refers to it as "assessment behind outcomes": "the promise of assessment – mandated or otherwise – is improved student learning, and  improvement requires attention not only to final results but also to how results occur. Assessment behind outcomes means looking more carefully at the process and conditions that lead to the learning we care about…" (Hutchings, 1992, p. 6).
Formative assessment includes all coursework with feedback, discussions between instructors and students, and the end 9f unit examinations that provides an opportunity for students to know the important areas for necessary growth and development for themselves (Brown and Knight, 1994).
Both summative and formative assessment indicate the purpose of assessment and both the method. Different methods of assessments can either be summative or formative depending on how the instructor implements them.
What are the three main teaching strategies?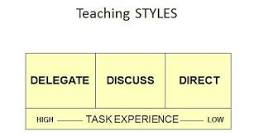 Most effective teachers vary their strategies depending on the nature of subject matter, phrase of the course and many other factors. There are three main teaching strategies namely:
Delegate
Discuss
Direct
The directing style: this promotes learning through listening and following directions. The teachers tell the students what to do , how to do it and when to do it. Teachers lecture the students, assign readings, present audios or visuals, demonstrate, and many other things. Students gain information by listening, taking notes, role playing and following what they are instructed to do. The only feedback teachers ask for is " do you understand the instructions?"
Suggestions for using directing style:
Start with the big picture
Be clear
Provide details
Don't sugarcoat the message
The discussing style: this promotes learning via interaction. It was practiced by Socrates where the teacher encourages critical thinking and lively discussions by asking the students to respond to a challenging question. Suggestions for using discussing style:
Prepare questions
Don't allow a few students to dominate the discussion
Have students create questions themselves
Utilize clickers
The delegating style: this promotes learning via empowerment. Teachers assign students work that they perform individually, in groups or rather independently. Suggestions for using the delegating strategy:
Assign research projects: I.e what measures do your company use to measure employees performance? What are the lessons you have learnt as a manager in conducting performance appraisals?
Assign team projects
Assign capstone projects
In summary, there is no one best teaching strategy. Effective teachers use a variety of strategies and they know when to use one. In a nutshell, the three main teaching strategies boil down to this:
Direct- telling the students what to do
Discuss- asking questions and listening
Delegate- empowering the students
What are purposes of educational and psychological testing?
This report was prepared by the Joint Committee on the Standards for Educational and Psychological Testing of the American Educational research Association together with the national council on measurement in education.  This edition of standards is sponsored by (AERA) American Educational research association and the national council on measurement in education (NCME).
They are one of the most important contributions of cognitive and behavioral sciences in our society. They provide a fundamental and significant source of information about Individuals and groups.  Not all same test scores are well developed.
For example, is it appropriate to conclude that results of a mathematics test on fractions from recent immigrants exactly represents their understanding of fractions? The tests that are well structured have potential to provide benefits for test takers and test users.
What is the importance of student learning outcomes?
These are the statements that specify what students will know, will do or be able to show when they have completed in a Course or Program. SLO is used to specify actions by the student that must be observable, measurable and able to be demonstrated. Learning goals give students a way to think and talk about what they have learned. They make students to "know what they know" and give students a language to communicate what they know to others.
Why are validity and reliability important concerns in classroom assessments which is more important why?
Classroom assessment is the process of observing, collecting, analyzing, and interpreting evidence that can be used to draw conclusions and inform decisions. Teachers need to know characteristics of a wide variety of classroom assessment techniques. They also need to know how these techniques can be adapted for various content, and student characteristics.
This is what many teachers do as part of their responsibility to enhance motivation among students, it includes documenting student performance and reporting their results for accountability.
Validity and Reliability in Education: let us start with construct validity . It concerns an extent to which your test accurately assesses what it is supposed to.
Types of measurement validity
Construct validity is one of four types of measurement validity.
Content validity: Construct validity refers to the general idea that the realization of a theory should be align with the theory itself . I. e content validity is the test fully representative of what it aims to measure?
Face validity: Does the content of the test appear to be suitable to its aims?
Criterion validity: Criterion validity refers to a correlation between a test and a criterion that is already accepted as a valid measure of the goal or question .
Do the results accurately measure the concrete outcome they are designed to measure?
Conclusion
In conclusion, understanding of validity and reliability allows educators to make right decision to improve lives of students both academically and socially. These concepts teach educators how to quantify the goals their schools requirements.
References
Howatson-Jones, Lioba. "Designing web-based education courses for nurses." Nursing Standard (through 2013) 19.11 (2004): 41.
Peyrot-Clausade, M., Hutchings, P., & Richard, G. (1992). Temporal variations of macroborers in massive Porites lobata on Moorea, French Polynesia. Coral Reefs, 11(3), 161-166.
Maki, Peggy L. Assessing for learning: Building a sustainable commitment across the institution. Stylus Publishing, LLC., 2012.
Siegel, Marcelle A., and Cathy Wissehr. "Preparing for the plunge: Preservice teachers' assessment literacy." Journal of Science Teacher Education 22.4 (2011): 371-391.
RELATED ARTCLE: Focus on the standards for evaluating argument and focus on validity
Attachments