Main branches of ethical theory (consequentialism, non-consequentialism, and virtue ethics), which approach would you want a President of the United States to excel at in his or her own life and work?
Main branches of ethical theory
Now that we have learned about the three main branches of ethical theory (consequentialism, non-consequentialism, and virtue ethics), which approach would you want a President of the United States to excel at in his or her own life and work? Why do you think it is more important for a President to live in accordance with this approach to ethics as opposed to the other two?
Descriptive Ethics
Descriptive ethics deals with what people actually believe (or made to believe) to be right or wrong, and accordingly holds up the human actions acceptable or not acceptable or punishable under a custom or law.
However, customs and laws keep changing from time to time and from society to society. The societies have structured their moral principles as per changing time and have expected people to behave accordingly. Due to this, descriptive ethics is also called comparative ethics because it compares the ethics or past and present; ethics of one society and other. It also takes inputs from other disciplines such as anthropology, psychology, sociology and history to explain the moral right or wrong.
Normative Ethics
Normative Ethics deals with "norms" or set of considerations how one should act. Thus, it's a study of "ethical action" and sets out the rightness or wrongness of the actions. It is also called prescriptive ethics because it rests on the principles which determine whether an action is right or wrong. The Golden rule of normative ethics is "doing to other as we want them to do to us". Since we don't want our neighbours to throw stones through our glass window, then it will not be wise to first throw stone through a neighbour's window.  Based on this reasoning, anything such as harassing, victimising, abusing or assaulting someone is wrong. Normative ethics also provides justification for punishing a person who disturbs social and moral order.
Aristotle's virtue ethics, Kant's deontological ethics, Mill's consequentialism (Utilitarianism) and the Bhagwad Gita's Nishkam Karmayoga are some of the theories in Normative Ethics.
Virtue ethics
Virtue ethics focuses on one's character and the virtues for determining or evaluating ethical behaviour. Plato, Aristotle and Thomas Aquinas were major advocates of Virtue ethics. Plato gave a scheme of four cardinal virtues viz. prudence, justice, temperance and fortitude (courage). His disciple Aristotle categorized the virtues as moral and intellectual. He identified some of the moral virtues including "wisdom".
Deontological ethics
Deontological ethics or duty ethics focuses on the rightness and wrongness of the actions rather than the consequences of those actions. There are different deontological theories such as categorical imperative, moral absolutism, divine command theory etc.
First famous deontological theory is Immanuel Kant's Categorical Imperative or Kantianism. Kant said that the human beings occupy special place in creation and there is an ultimate commandment from which all duties and obligations derive. The moral rules, as per Kant, should follow two principles viz. universality and principle of reciprocity.  By universality, he meant that a moral action must be possible to apply it to all people. By principle of reciprocity, he meant said "do as you would be done by. Such premise of morality is found in all religious systems, including Hinduism, Islam, Christianity, Judaism, Buddhism etc.
As mentioned previously, Rae suggests that ethics are a process that is both an art and a science. There are generally three philosophical approaches, or what may be considered the science, to ethical reasoning:
utilitarian ethics
deontological ethics
virtue ethics
When people talk about these areas, they are usually discussing an area of ethics known as normative ethics, or the process of considering and determining ethical behavior.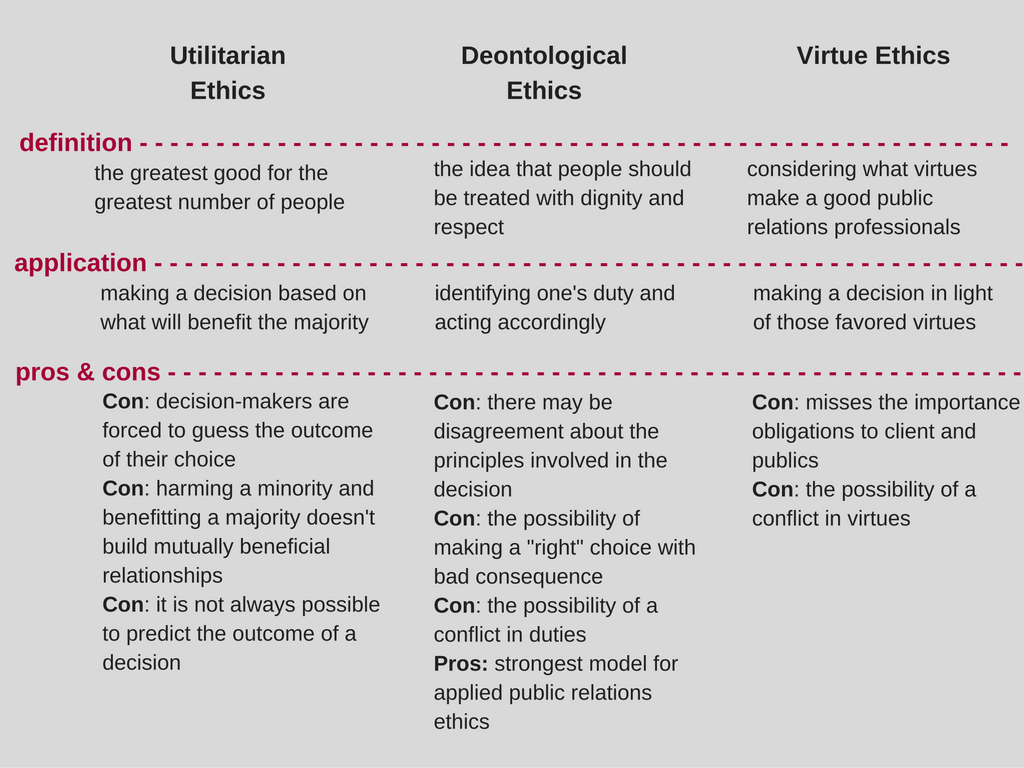 Attachments