Investigation into the life of Jacques Louis David and Three of his Great Artworks. Additionally, that artist's work should be well known enough that you can easily find scholarly articles about them when you search in JSTOR
Life of Jacques Louis David
Art 305: Paper
PICK Your Favorite Artist: Investigate a Major Artist's Life and Three of Their Great Artworks
Chose an artist to write about that you find interesting. Additionally, that artist's work should be well known enough that you can easily find scholarly articles about them when you search in JSTOR (within the CSUN University Library's databases), or when you look in digital book collection library listings.
Write a brief biography of your chosen artist's life, then discuss THREE of their artworks in detail. This discussion can address how similar the artworks are, or it can be more of a compare and contrast, discussing the differences between phases in the artist's work. This must also be based on your historical research, complete with footnotes. Finally, write a conclusion paragraph about how you feel about the artist and their work.
Artist Inspirations (use any of these, if you wish!):
Elisabeth Vigee Le Brun
Jacques Louis David
Michelangelo
Georgia O' Keeffe
Bernini
Jean-Michel Basquiat
Caravaggio
Sofonisba Anguissola
Picasso
Jackson Pollock
Vincent van Gogh
Mary Cassatt
Kerry James Marshall
Tamara De Lempicka
Leonardo da Vinci
Artemesia Gentileschi
Edgar Degas
Takashi Murakami
Marcel Duchamp
Andy Warhol
Claude Monet
Mariko Mori
Raphael
Henri Matisse
Diego Rivera
Jacob Lawrence
Yoshitomo Nara
Frida Kahlo
Jeff Koons
Hiroshi Sugimoto
Gustav Klimt
Francisco Goya
Augusta Savage
J.M.W. Turner
Akira Toriyama
Henri de Toulouse-Lautrec
Albrecht Durer
Kara Walker
Jacques louis david life ¦ 3 of his greatest artworks
1. Le peintre louis david
On August 30, 1748, Jacques Louis David was born in Paris to a wealthy French family. His father was slain in a fight when he was just nine years old, and his mother abandoned him with his wealthy architect uncles. David began French school at the Collège des Quatre-Nations, University of Paris, but he was never a good student—he had a facial tumor that made it difficult for him to speak, and he was always fascinated with sketching. Jacques Louis drew all over his notebooks and once commented, "I was usually lurking behind the instructor's chair, sketching for the entirety of the lesson."
Soon after, he intended to be a painter, but his uncles and mother preferred that he become an architect. He overcame the opposition and traveled to Paris to study with François Boucher (1703-1770), the leading painter of the day and a distant relative.
Boucher was a Rococo painter, but preferences were shifting, and the Rococo style was giving way to a more classical one. Instead of taking over David's tutelage, Boucher decided to transfer him to his friend, Joseph-Marie Vien (1716-1809), a painter who espoused the classical reaction to Rococo.
A visit to Naples in 1779 completed his conversion. Belisarius Begging Alms (1780, Musée des Beaux Arts, Lille), begun in Rome but finished after David's return to Paris, sums up, in the calm grandeur of its composition and the subdued harmonies of its colors, the gains of his Italian stay.
Jacques Louis David studied at the Royal Academy, which was housed in what is now the Louvre. Every year, the Academy gave a coveted Prix de Rome to an outstanding student, which sponsored a 3- to 5-year stay in Rome. Because painters were now returning to traditional techniques, the trip gave its recipients the opportunity to study classical antiquity and the works of Italian Renaissance masters firsthand.
They were known as pensionnaires and were housed in the French Academy's Rome outpost, which was the Palazzo Mancini in the Via del Corso from 1737 to 1793. Jacques Louis David apparently tried three times in a row to win the annual prize (with Minerva Fighting Mars, Diana and Apollo Killing Niobe's Children, and The Death of Seneca), with each failure contributing to his lifelong resentment of the organization.
After his second defeat in 1772, David embarked on a two-and-a-half-day hunger strike before the faculty urged him to continue painting. Jacques Louis David resumed his studies with zeal, confident that he now had the support and backing he needed to win the prize—only to fail to win the Prix de Rome again the next year.
In 1774, Jacques Louis David received the Prix de Rome for his painting of Erasistratus Discovering the Cause of Antiochus' Disease, which was chosen by the judges. In October 1775, he traveled to Italy with his instructor, Joseph-Marie Vien, who had recently been named director of the French Academy in Rome.
David championed a style of rigorous contours, sculpted forms, and polished surfaces; history paintings, such as his Lictors Bringing Brutus the Bodies of His Sons (Musée du Louvre, Paris) of 1789, were intended as moral exemplars. Jacques Louis David lived to his legacy because there was another painter tha he left behind.
Jean-Auguste-Dominique Ingres, (born August 29, 1780, Montauban, France—died January 14, 1867, Paris), painter and icon of cultural conservatism in 19th-century France. Ingres became the principal proponent of French Neoclassical painting after the death of his mentor, Jacques-Louis David. and the grandiose funerals the new government gave its martyrs.
Some of his projects for paintings at this time were never completely carried out: one of these is the unfinished Joseph Bara , which is a tribute to a drummer boy shot by the royalists, and another is the sketched Oath of the Tennis Court , which was to commemorate the moment in 1789 when the Third Estate (the commoners) swore not to disband until a new constitution had been adopted.
2. Relationship between Jacques Louis David and Joseph Marie Vien
In October 1775, Jacques Louis David traveled to Italy with his instructor, Joseph-Marie Vien, who had recently been named director of the French Royal Academy in Rome. Jacques Louis David spent most of his time in Italy studying the works of 17th-century masters such as Poussin, Caravaggio, and the Carracci.
The French painter Joseph-Marie Vien. He was the last Premier Peintre du Roi to occupy the position, serving from 1789 until 1791. He was born in the city of Montpellier. Protected by Comte de Caylus, he attended Natoire's studio at a young age and won the grand prix in 1745. He spent his time in Rome applying what he had learned from the masterpieces around him to the study of nature and the development of his own powers; but his tendencies were so foreign to the reigning taste that upon his return to Paris, he owed his admission to the academy for his painting Daedalus and Icarus (Louvre) solely to the indignant protests of François Boucher.
When he became director of the School of France in Rome in 1776, at the height of his established renown, he declined to accept Jacques-Louis David as a student, claiming he was too elderly to teach a young artist. After his return five years later, his fortunes were devastated by the French Revolution; yet, he persevered and, at the age of eighty (1796), won the prize in an open government competition.
Napoleon Bonaparte honored him by making him a senator.Joseph-Marie Vien died in Paris and was buried at the Panthéon crypt. He left a legacy of brilliant students, including François-André Vincent, Jean-Antoine-Théodore Giroust, Jean-Baptiste Regnault, Joseph-Benoît Suvée, Jean-Pierre Saint-Ours, François-Guillaume Ménageot, Jean-Joseph Taillasson, and others; the name of his wife, Marie-Thérèse Reboul (1728-1805), herself an academy member, should not be Their son, Marie Joseph, born in 1761, also distinguished himself as a painter. "The Legacy of Jacques Louis David (1748–1825)" is in Heilbrunn Timeline of Art History . New York: The Metropolitan Museum of Art, 2000–. http://www.metmuseum.org/toah/hd/jldv/hd_jldv.htm
3. French Revolution: The Death of Marat, 1793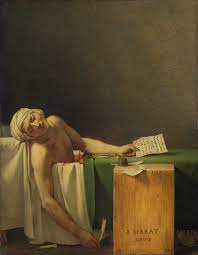 The Death of Marat is a 1793 painting by Jacques Louis David representing the artist's friend and killed French revolutionary leader, Jean-Paul Marat. Jacques Louis David painted one of the most iconic images from the French Revolution era while he was the leading French Neoclassical painter, a Montagnard, and a member of the revolutionary Committee of General Security.
The artwork, created in the months following Marat's death, depicts Marat lying dead in his bath after his murder by Charlotte Corday on July 13, 1793. T. J. Clark, an art historian, termed David's painting the first modernist work because of "the way it took the stuff of politics as its material, and did not convert it."Jean-Paul Marat (24 May 1743 – 13 July 1793) was one of the Montagnard leaders of the French Revolution, from the Reign of Terror to the Thermidorian Reaction.
Charlotte Corday, a Girondin and political rival of Marat's who blamed Marat for the September Massacre, stabbed him to death. Corday gained entry to Marat's home with a message offering information about a counter-revolutionary network in Caen. Marat had a skin issue that required him to spend a lot of time in his bathtub, where he would often work. Corday stabbed Marat to death, but she made no attempt to leave. Later, she was prosecuted and hanged for the crime.
Marat was assassinated while proofreading a proof of his journal L'Ami du peuple. The blood-stained page has been saved. The note Marat is clutching in the image is a fictitious phrase based on what Corday might have said, not an actual quotation of Corday. David was a renowned Montagnard and Jacobin, affiliated with Marat and Maximilian Robespierre, and the leading French painter of his period.
David voted for the murder of French King Louis XVI as a deputy of the museum section at the National Convention and sat on the Committee of General Security, where he actively engaged in sentencings and imprisonment, eventually presiding over the "section des interrogatoires." David also served on the Public Instruction Committee.
The Death of Marat has frequently been likened to Michelangelo's Pietà, with the stretched arm hanging down in both pieces being a prominent similarity. David adored Caravaggio's works, particularly Entombment of Christ, which parallels the passion and brightness of The Death of Marat.
Several reproductions of the picture were done by David's students in 1793-1794, during the Reign of Terror, when the image was a popular emblem of sacrifice. The painting remained unknown from 1795 until David's death. Antoine Gros, David's most famous pupil, concealed it someplace in France during David's exile in Belgium.
After seeing it at the Bazar Bonne-Nouvelle in 1845, Pierre-Joseph Proudhon and Charles Baudelaire complimented it, sparking increased interest in the artwork. Several artists (including Pablo Picasso, Edvard Munch, and Paul Jacques Aimé Baudry), poets (Alessandro Mozzambani), and playwrights (Peter Weiss' play Marat/Sade) were influenced by David's painting in the twentieth century. As part of his "Pictures of Garbage" series, Brazilian artist Vik Muniz created a version made up of items from a city landfill.
The letter depicted in the artwork has survived, with bloodstains and bath water markings still apparent, and is owned by Robert Lindsay, 29th Earl of Crawford.
Tensions rose in pre-revolutionary France, David's depiction of resistance against an unjust authority quickly became popular. In a letter to the famous British portraitist Sir Joshua Reynolds, the artist John Boydell claimed it to be "the greatest effort of art since the Sistine Chapel and the stanza of Raphael."
Conclusion
In conclusion we can say that following Napoleon's demise and the Bourbon rebirth, David exiled himself to Brussels, then to the United Kingdom of the Netherlands, where he died. David had many pupils, making him the most influential figure in early nineteenth-century French art, particularly academic Salon painting.
Attachments