How to write a thesis: a guide for college students
Introduction
A thesis might be one of the hardest things you'll ever write in college, but that doesn't mean you can't use some help getting started and making sure you don't run into trouble along the way. Writing a thesis is considered by many graduate students a daunting experience due to the complexity required in writing it. Apart from a dissertation, a thesis is one of the longest pieces of writing students are required to complete.
In this guide to writing a thesis, we'll talk about how to pick the right topic, do your research, create an outline, draft, revise and refine your paper, and finally create your finished piece so it can be handed in on time and stand out from the rest of the class!
What is a Thesis?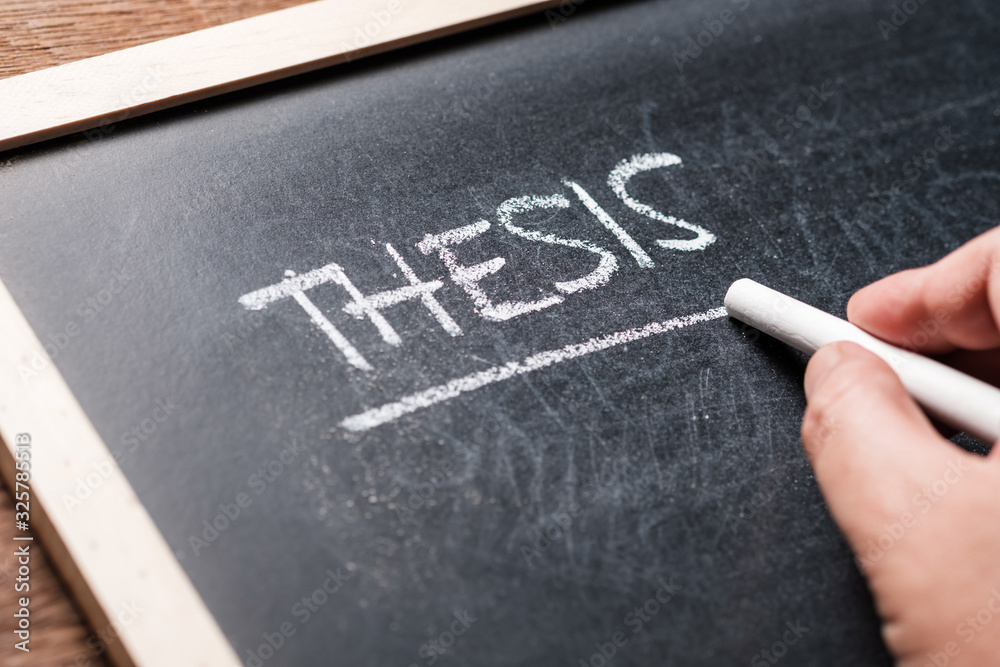 Image by patpitchaya from Pikwizard
The term thesis has been defined and described in many ways but we can simply define a thesis as a type of research paper that is usually based on original research. This paper is usually submitted as a final step of a student undertaking a master's program but it can also be submitted as a capstone to a bachelor's degree.  Thesis writing requires the ability of a student to conduct research from the start to finish involving processes such as proposal crafting, research designing, data collection, analysis, and conclusion writing(George, 2022).
Thesis statement vs thesis
It is good to note that the term thesis can be misinterpreted by the term thesis statement by students. A good thesis statement is a statement containing one sentence to three sentences in the introduction of an academic essay. This statement outlines to the reader what to expect in the document. Some suggest it as a statement arguing that requires to be defended through thorough research.
Types of thesis statements
In case you are required to write a thesis statement, remember that there are three types of thesis statements namely argumentative, analytical, and expository. Argumentative presents a topic that is debatable in addition to reasons to support the topic. Analytical presents a defined claim in addition to providing an explanation of how it is supported. Expository, on the other hand, presents a topic in addition to an in-depth explanation that the reader can learn from the document.
Developing a Topic
As indicated above, a thesis is a type of research paper that is usually based on original research. Before undertaking any research, you need to have an idea of what you intend to undertake research on and then write on it. Depending on the level of your studies, you are expected to come up with a topic for your thesis(Paperpile, 2022). Coming or developing a topic can be done by yourself or from a list of broad topics provided by the tutor.
Before coming up with a topic it is important to factor in three questions that may lead to you getting a thesis topic. These questions are:
·         What component of your study piques your curiosity the most?
·         Was there anything stated in a debate or discussion that piqued your interest?
·         Did you come upon a notion or concept that piqued your interest?
Upon contemplation of the above questions, it is upon you to come up with a topic. It can still become a toll order to choose a topic and that is where Sahlman's theory of "How to write a Master Thesis fast" comes into action. The theory states start that there are three areas that a student needs to focus on namely phenomenon, point of view, and context.
Assume you want to make a certain phenomenon the focal point of your argument. For instance, "gay rights" or "climate change." You then select a point of view. What is your interpretation of the phenomenon? As an example, "American culture" or "legally/financially." Finally, limit it to a certain period, such as "from 2000 to 2010" or "small German firms in 2017."
Combining the examples from these three domains yields two potential thesis topics:
From 2000 to 2010, the evolution of gay rights in American culture.
Emerging climate change rules affecting small German businesses in 2017
Do note that the potential or prospective topics do not need to be perfect first but should give you an idea that you can brainstorm.
Research
Research is a vital aspect of a thesis as you need to have an understanding of what available researchers have done in the area on the topic that you want to undertake. It also assists you to set up and provide a definition of a problem that currently exists in the research. Begin your research by conducting heavy-duty research. This can be from the internet, reference books, electronic databases, and newspaper articles(College, 2022). As you conduct your research, remember to jot down on an index card the publication information that you require in your works cited or bibliography section.
Next, note down important details, examples, and details that will distinguish your direct quotes from the ones you have paraphrased. It is important to remember that expert opinion is usually considered to be more valid compared to a general opinion on some topics. Avoid depending too heavily on internet sources, which vary greatly in terms of quality and authority and, in some cases, disappear before you can finish your work. Never copy and paste from the internet into an actual draft of your work.
Outlining
An outline is considered to be the roadmap of any essay and so it is for a thesis as it lists down the arguments and subtopics in a logical order to which can be followed easily. Having a good outline is a vital factor in writing a good thesis as it assists to target your research areas in addition to keeping the reader within the scope. This decreases the possibility of getting off course while also keeping the arguments in excellent order while you construct your thesis.
So, the question is, how do you create an outline? When creating your outline, you must include all of the primary subjects and subtopics, grouping related topics and ideas together and organizing them in a logical sequence(College, 2022a).
Writing the First Draft
Writing the first draft is an important factor as it assists you to try and get as many ideas on paper at a very rapid speed and duration from the main idea. You should not be concerned with issues such as spelling, grammar, or punctuation at this level of your writing. In case you have a new information or need to change an already written idea, you can edit it at this stage without any concern.
It is key to note that in writing your first draft, there may be instances where you find yourself having a lot of repetitions which is fine. Some other factors to note down when writing your first draft include:
Do not worry about having an introduction on your draft
Always bracket the sections that you cannot write at that time and try as much as possible to complete the draft of the entire thesis
Rewrite the initial thesis statement whenever you want to make it better as it will guide you through the writing and revision of the thesis paper
Write the draft in a manner that is easy and comfortable for you
Editing and Rewriting
The editing and rewriting process of the thesis writing comes just before submitting the paper. During this stage, you need to first realize what style you are supposed to use and remain consistent in that style. There are various styles such as the American Psychological Association (APA), Turabian, and Modern Language Association of America (MLA) that can be used. However, the institution or course usually provides a guideline on which style to be used. Other fundamentals of thesis editing and proofreading that you need to factor into your thesis include:
·         Language
·         Consistency
·         Progression of ideas
Conclusion
The conclusion section of a thesis is a vital element in the thesis writing process as it gives the reader a clear understanding of the writer's point in addition to main findings in addition to answering the research question. This section should be concise and very engaging. In the conclusion, you should:
Give a clear response to your main research question
Write a summary of your research and reflect on it
Make suggestions for upcoming research on your topic
Indicate the new knowledge that you have contributed to the topic field
Finish documenting your dissertation or thesis
Resources
As discussed earlier in the paper, it is important for students to undertake research before they start documenting their thesis. Providing your reference materials to the reader, clearly indicates the extent of your research in the field thus indicating the quality of the thesis. Remember to always jot down all the relevant resources and reference materials that you used for your thesis in addition to having well-indicated citations in the thesis document.
The resources should also be within the instructed style so as to be consistent throughout the paper. Lastly, most instructors indicate some guidelines to use during your research such as all research materials should have been conducted within the last five years and articles should be peer-reviewed.
References
http://www.butte.edu/services/library/learning/research-paper/thesis.html
College, B. (2022b). How to Start (and Complete) a Research Paper. butte.edu. http://www.butte.edu/departments/cas/tipsheets/research/research_paper.html
George, T. (2022). What Is a Thesis? | Ultimate Guide & Examples. Scribbr. https://www.scribbr.com/dissertation/thesis/
Paperpile. (2022). How to come up with a topic for your thesis. paperpile.com. https://paperpile.com/g/topic-for-your-thesis/
Related Article: How to Write an Engaging and Informative Book Review