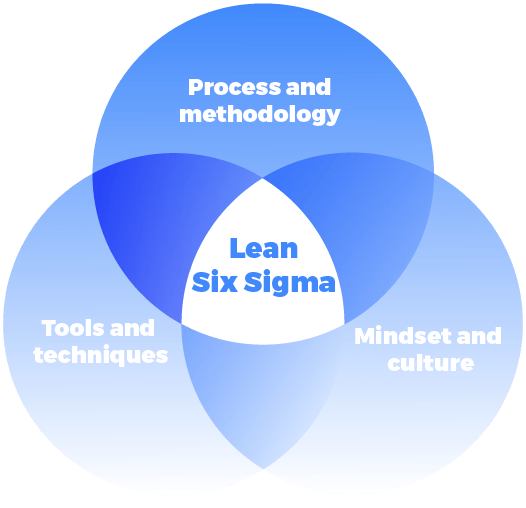 There are three key elements to Lean Six Sigma.
Tools and techniques: A comprehensive set of tools and analytical techniques that are used to identify and solve problems.
Process and methodology: A series of phases that organize the use of the problem-solving tools to ensure that the true root causes are found and that a solution is fully implemented.
Mindset and culture: A way of thinking that relies on data and processes to achieve operational performance goals and continuously improve.
These three elements reinforce each other. Analytical techniques are not used effectively unless there is a process for applying them and a mindset of continuous improvement creating the need for them. An improvement process does not produce the desired results unless it includes the tools and techniques that define the activity of the process steps and there is a culture that insists on systemic data-based approach to solving problems.
Finally, a culture that seeks to continuously improve will be frustrated if there are no tools and techniques for analysis and no process or methodology that can be applied to organize and focus the improvement efforts. Fortunately, the Lean Six Sigma approach to business improvement includes all three layers.
Background
Let's take a look at the history of Lean Six Sigma, and how the different parts of this methodology were formed to become the process improvement approach we know today.
What is continuous improvement?
Continuous improvement as a business strategy and discipline developed as an offshoot of Frederick Winslow Taylor's Principles of Scientific Management. Taylor described business as a series of interlocking workflows or processes that should be managed using data.
In the 1930's Walter Shewhart developed a set of management disciplines for process control and continuous improvement. These disciplines were based upon Taylor's principles of business workflows and a reliance on data.
Shewhart's work is the foundation for the engineering and management disciplines of Quality Assurance and Quality Control found in most organizations today.
One of Shewhart's students and proteges was Edward Deming, who used these principles to remake the Japanese automotive industry into a global quality and engineering powerhouse following World War II.
What is Lean?
Lean was developed in Toyota as part of the Toyota Production System, which was built around the work of Shewhart and Deming. Toyota had been a client of Deming and established its operational management practices on the principles he taught. The fundamental driver of Lean is the elimination of waste.
In fact, a good description of the Lean approach is, "a set of tools that assist in the identification and the steady elimination of waste."
If a company is doing large scale, high-quantity production like Toyota; then a process with waste in it means that company is creating large-scale, high quantity waste. No company wants to do this. The Lean approach uses tools to analyze the business process.
Five principles of lean manufacturing
Value
Value is determined by what the customer considers to be important within a product or service, rather than what the individuals developing or delivering the product or service consider important.
Value Stream
The set of business activities and steps involved in creating and delivering products and services to the customer; it is the connection of the steps together rather than considering each step in isolation.
Flow
The degree to which there is smooth uninterrupted flow of activities that add value to the customer, rather than waste and inefficiency that impedes the flow through the value stream.
Pull
The degree to which the value stream is only processing products and services for which there is a customer demand, rather than creating something and hoping someone wants it.
Perfection
The continuous assessment of value stream performance to identify and improve the value created and delivered to the customer, rather than resisting changes that improve the process of creating and delivering customer value.