Explain how culture relates to social boundaries. How do we express culture through consumption? How and why do you think some material or symbolic cultural items, like cornrows, rainbow flags or other examples,
How culture relates to social boundaries
Explain how culture relates to social boundaries. How do we express culture through consumption? How and why do you think some material or symbolic cultural items, like cornrows, rainbow flags or other examples, create and "cross over" boundaries separating popular culture and subcultures?
What are social cultural boundaries?
Social boundaries are established social rules many people in the society typically believe are the reasonable ways to live. Gain some perspective: Not having boundaries can have effects to our mental health. Going too far and over-thinking them can affect our emotional well-being, reveals Dr. Quinn-Cirillo. "Get a healthy level of thinking about boundaries," she says. "Have some but don't be dictated by them. Sometimes you've just got to go with your gut instinct. We can forget that we're actually quite good at navigating most things and are quite intuitive as human beings."
How does culture relate to social boundaries?
People develop their own language when they communicate amongst themselves. Sometimes, they take terms spoken by one party, talking enough to develop an understanding of the term. Later, they adopt it across the group. As the discussions proceed within the group, meanings are adjusted to be used as new concepts. They now discover new terminologies. They sometimes deliberately make up a new term, making it different from any other words or phrases ever used before. This is evident in technical groups. It also happens 8n walks of life, legal and political as well as with societies Thomas, (2013).
The result of this process is the formation of a new language, a new strain of language. Just a twist of an existing word, a new language is formed. The primary motivating effect of this is to enable communication within the group. A greater vocabulary broadens discussions which can be made without misunderstanding.
The secondary complementary and inexorable effect is creating a common bond within the group, meanwhile erecting a barrier in the group. It is in most cases unintentional. Every linguist development that promotes communication is made in a corresponding change in the difficulty of communicating. Whatever that makes a group culture stronger necessarily isolates it from others. The culture in a group consists of many things. However, terms and their meanings and set of concepts interconnecting these meanings are a significant part.
A working group will, given a free rein, work in isolation for several months, and when finished have a difficulty explaining the documents to their peers outside the group. This will obviously be a surprise to the group. The people outside the group will be slow to understand. Those outside the group will seem to have a tendency to use jargon or rather misusing jargon. This may be worse as those from one side of the group may see others as stupid, malicious or even heretical.
An essential solution to the problem is for those thinking about what those on the other side of the boundary are thinking. It is called hard work. This involves ( we discover, use of specific parts of the brain) [saxepowell]. In a technical setting, it may seem as study of words used in others' as senseless protestations, building a logical conclusion of how these words must be related to others' minds.
Therefore, the process of forming a common culture for a large community is listening to others. It builds a set of common terms. The motivation for technical specifications is to get interpretability wide. Diplomatic and political motivation is to get to common decisions and also to reduce global strife.
There's tension between the need to get things done quickly with less effort, working in small groups, and the need to get a wider understanding which takes more time.
Life is made of fractal tangles of communities.this means that tension is ever present. It also means that there's always a small common language ever shared among the other communities. For a long time, geography played a role in constraining diverse groups creating two dimensional patterns. Internet and web technology can connect things without constrainment of these geographical areas.
Now we can choose to be a member of communities such as region, town, country, county, people with disabilities, or people connected to a particular global issue. This means that topology and connectedness by some metrics may be different and better than long before. An emerging topology depends on the choices of many people. A fractal distribution will be recommended.
The semantics web is a techo invented for this specific purpose. terms are defined in ontologies. This means groups of consistent, related terms Tamo-Larrieux, et al., 2021. These are defined by communities. A person is involved in many communities, being given terms that will mix from many ontologies.  This operation requires consistency.
Finally, this will promote work towards harmonization. We know that a single ontology of everything cannot be done. It is the effort of getting consensus. Stovepipe systems with local ontologies leaves us with communication involving reuse of data which doesn't conform to our great detriment. Therefore, we engineer specifically for fractal topology.
How does culture relate to cultural diversity?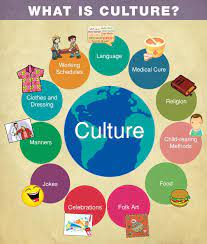 According to (Foner et al.,2019) cultural diversty is existence of many or variety of ethinic groups within a society. According to non- borrowing, the focus of understanding both cultural diversity and boundaries, more precisely how polarization arises creates situations in which traits are not borrowed between groups.
Flache explored in this aspect of diffusion. He reviews and systemizes a large class of models on social influence dynamics in social network. His aim was to understand conditions and processes of the emergence of monoculture versus cultural diversity. This paper will highlight the microscopic mechanism that, in assimilative influence, can lead to coexistence of different cultures.
How Does Cultural differences affects Communication?
Instant communications has made the world a small place, as we interact with people from different cultures. In this era, cultural differences stand out to be one of the biggest challenges.
New challenges with the way we communicate with different cultures
Values always conflicts when people of different cultures work together.the following are some of the differencenses that leads to cultural communication difficulties:
Different styles of communicating
Different attitudes regarding conflicts
Completing tasks in different ways
Differences in decision making
Differences in attitudes towards disclosure
Different approaches to knowing
Cross-cultural communication is challenging
Here are six patterns of cultural differences that help understand people who are different from you. We will still offer the following tip:
Understand a person's behavior and reactions are often culturally driven
Accept different languages, religions and other cultural differences of the team member
Consider special needs of the team members i.e different holidays and hours of appreciation.
Asking questions if unsure of aspects of cultural differences
Show way by being courteous to ensure people around you follow the path of understanding and acceptance
Need to work across cultures is given in our societies today. There are online programs for bachelor of arts in communication and bachelor of science in communication in various universities to educate students across the world.
What are examples of cultural boundaries in local group?
For instance, in America, belching in front of people is rude. Therefore, concealing to belch in front of people is advised because a large populatio believes it is unpleasant. In other countries for example, belching may be considered a sign that a person has greatly enjoyed the meal. It may be assign to applause the chef.
In these societies it is it is a sign of gratitude and contentment. Another example: some cultures think that sharing personal information is not appropriate , while in other cultures, sharing is encouraged at all times.
Furthermore, social boundaries allow people to assess others. You can categorize people within the first few minutes if meeting them. Social boundaries help to gauge ourselves to people who we have met interns of similarities and differences. In some countries it is considered to be rude to look people directly into their eyes while in a conversation. It is also rude in some countries for not looking people directly into their eyes when talking to them.
We are mandated to understand that other's social boundaries may be different in some ways. For this reason, we can display appreciation for these differences.
Have you ever been in a situation where you have met someone who is standing very close to you? This is another example of social boundaries. In this case, this might feel less obvious, but, just a strange behavior. In some societies, it is customary to stand closely to  a person while having a conversation. There is an unspoken range of distance that is expected to be kept while interacting.
Social boundaries dictate various characteristics of a person's behavior. From standing too close or far from a person, an attire that one wears while attending religious ceremonies or how you softly or loudly talk to a person. Additionally, sharing emotions openly is strongly discouraged. In others countries, the same behavior is tolerated and accepted. Without tolerating others' cullture may usually end in a lot of yawns and zero lessons learned Mertus, (2020).
Conclusion
Inconclusion, social boundaries are beneficial for societies. They create an informal set of rules for behaviour. If the rules did not exist, it would be difficult to determine and structure amongst societies.
References
Foner, Nancy, Jan Willem Duyvendak, and Philip Kasinitz. "Introduction: Super-diversity in everyday life." Ethnic and Racial Studies 42.1 (2019): 1-16.
Mertus, Julie A. "Kosovo." Kosovo. University of California Press, 2020.
Tamo-Larrieux, Aurelia, Simon Mayer, and Zaira Zihlmann. "Not hardcoding but softcoding privacy." Technology and Regulation (2021).
Thomas, Joyce, and Deana McDonagh. "Shared language: Towards more effective communication." The Australasian medical journal 6.1 (2013): 46.
Attachments